City Break ieftin in New York, cel mai popular oras din SUA!
Obiective turistice de vizitat in New York: Statuia Libertății din New York, Central Park, Times Square, Empire State Building, Rockefeller Center, Podul Brooklyn, One World Trade Center, Muzeul Memorial 9/11, Broadway, Prospect Park, Mica Italie, Top of the Rock, Podul din Manhattan, Luna Park
Acesta este un city break pe cont propriu. Biletele de avion la acest pret sunt limitate.
Puteti alege alte zboruri folosind motorul de cautare Kiwi si alte cazari folosind Agoda!
Verificati preturile biletelor de avion si pe site-urile oficiale ale companiilor aeriene!
---
Zboruri ieftine Bucuresti – New York – Bucuresti, 12-18 martie – 391 eurp/persoana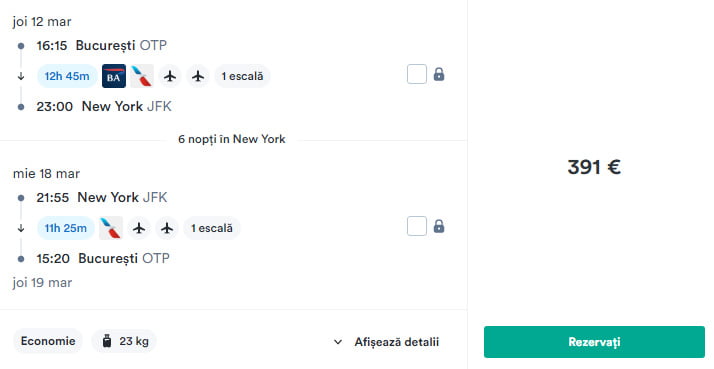 ---
Optiuni de cazare in New York:
⚡ Giorgio Hotel – 264 € / persoana

⚡ Nesva Hotel – 288€ / persoana
⚡ Best Western Plus Plaza Hotel – 378€ / persoana
⚡ The Jewel Facing Rockefeller Center Hotel- 405€ / persoana
---
Alte zboruri Bucuresti-New York-Bucuresti
5-11 martie
9-16 martie
10-18 martie
10-19 martie
11-17 martie
12-17 martie
16-24 martie
17-25 martie
18-24 martie