City Break ieftin in Dubai. Zboruri dus-intors cu preturi incepand cu 147 euro/persoana.
Obiective turistice de vazut in Dubai: Burj Khalifa, Dubai Mall, Palm Jumeirah, Fântânile Dubai, Dubai Museum, Insulele Palmier, Ski Dubai, Dubai Marina, Mall of the Emirates, Plaja Jumeirah, Madinat Jumeirah, Dubai Aquarium and Underwater Zoo, At The Top Burj Khalifa etc
Acesta este un city break pe cont propriu. Biletele de avion la acest pret sunt limitate.
Puteti alege alte zboruri folosind motorul de cautare Kiwi si alte cazari folosind Agoda!
Verificati preturile biletelor de avion si pe site-urile oficiale ale companiilor aeriene!
---
Zboruri ieftine Bucuresti-Dubai-Bucuresti, 4-7 martie, 147 euro/persoana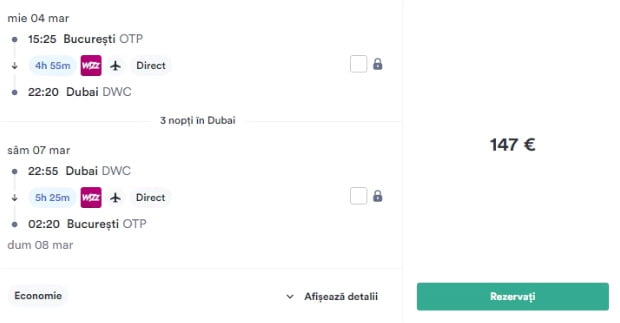 ---
Optiuni cazare:
⚡ Goldstate Hotel– 56 € / persoana

⚡ York International Hotel – 53 € / persoana
⚡ AL Manar Grand Hotel Apartment – 59 € / persoana
⚡ Carlton Palace Hotel – 98 € / persoana
---
Alte zboruri din Bucuresti
1-7 martie – ZBOR | CAZARE
1-5 martie – ZBOR | CAZARE
3-7 martie – ZBOR | CAZARE
7-13 martie – ZBOR | CAZARE
8-12 martie – ZBOR | CAZARE
10-17 martie – ZBOR | CAZARE
14-17 martie – ZBOR | CAZARE
17-21 martie – ZBOR | CAZARE
22-29 martie– ZBOR | CAZARE
25-29 martie – ZBOR | CAZARE
22-29 aprilie – ZBOR | CAZARE
3-6 mai – ZBOR | CAZARE
6-13 mai – ZBOR | CAZARE